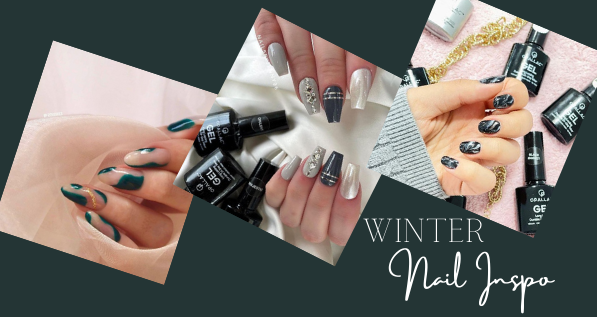 It's official, say goodbye to warm nights and bright summer vibes because Winter is here! Not to worry, now it's time to get excited about hot chocolate, warm blankets and best of all winter nail colours! Say hello to deep, rich, and warm colours to get you through the cloudy days! Here are a few of our go-to colours this Winter!
Dark Gel Palette
@strictlysal
Our Dark Gel Palette is ultimate winter vibes, featuring rich and delicious dark colours such as Emerald, Sapphire, Caviar and Granite! The best part about these colours is that if you catch them in a bit of sunlight, they brighten up for a different look!
Smoke & Mirrors
@strictlysal
Smoke and Mirrors from our Nude Gel Palette is a deep rich nude perfect for a warm tone! We love going for warm tones in Winter, and if you love your nudes this is for you!
Colour Change!
@rikkinails
Our Colour Change Gels are perfect for winter! You're constantly going from outside in the cold to warm heated rooms, this is the perfect time to show off the effects of our Colour Change Gels that are activated by change in temperature! Even better, you get to alternate between two colours in the one mani! Choose from our 4 Colour Change Gels, Strawberries & Cream, Poured in Pink (above), Two Faced and Addicted to Purple!
Dark Glitters
@shazrocha
It's time for the dark glitters to make their entrance! Choose from our wide range of dark glitters including Violet Spark, Paparazzi, Queen of Rock, Thunder Struck, Rocky Road and Black Diamonds! When it's dark and cloudy outside you need a little sparkle in your mani!
Black Market
@nailinspobyshadi
You can't go past a Winter Classic, Black Market is our signature black gel that is perfect for colder weather! Wear it by itself or use it as a base for nail art!