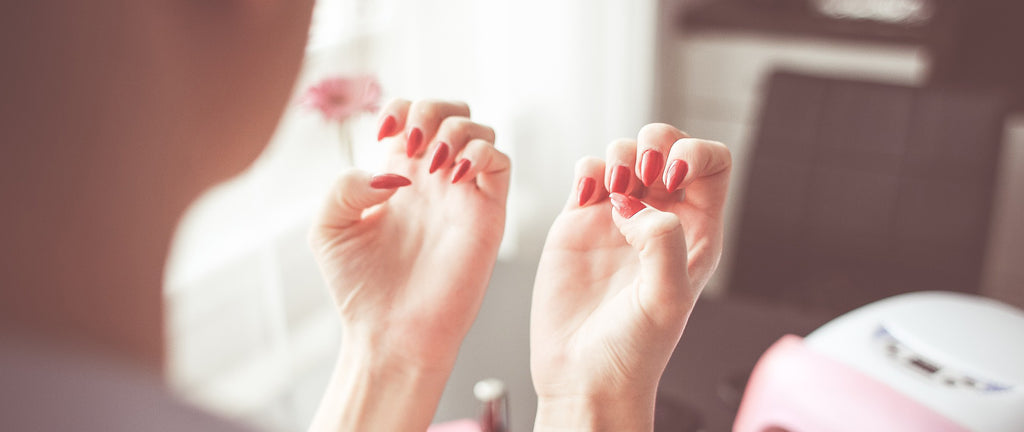 What is Gel nail polish? And what's the best Gel Polish for your nails?
Do you ever look at your co-worker's manicure and wonder how on earth it still looks perfect after 2 weeks when you're busy touching up every second day? Before you start thinking someone in the office is being overpaid, our insider intel suggests she's probably not frequenting the nail salon as much as you think! It's likely she's found the secret in Gel Nail Polish.
So, what is Gel Polish?
Gel polish is a light-based curing polish. Unlike regular polish, Gel polish requires the presence of a special UV or LED light to 'cure' the lacquer and keep it looking salon-perfect for weeks. Essentially, the light emits heat which then hardens the lacquer and causes it to 'set'. For Gel Nail Polish to work its magic, you apply four coats of polish – a base coat, two colour coats, and a top coat – popping each coat under the light for about 90 seconds.
The result? A gloss that'll make the office goss!
What is the best gel nail polish to use?
You're not short of options when it comes to choosing the best Gel Nail Polish for you, but there's two things you should consider when looking at Gel Polish:
Caring for your nails (and the environment!)
Gel Polish can cure with either UV or LED lights, but of the two LED is the safest, most energy efficient source of light (oh, and generally speedier than UV for mani drying time!). That's why Opallac Gel Polish only uses LED lights for our range – it's a win for Mother Earth and it's a win for your nails!
Convenience
Want the best Gel Polish that dries fast? Opallac Gel Polish is a front runner in the convenience department thanks to the super handy at-home kit, which means you can do your own gel mani without the hassle of going into a salon!
When doing your research, you might find other brands boast air drying capabilities. Although they are technically a Gel polish, without the UV or LED light involvement, it takes waaay longer for each lacquer layer to dry, and as a result, is much more prone to smudging and lines.  'Aint nobody got time for that!
Other brands like Shellac are only available in nail salons, meaning if your nail does happen to chip (we all know it's not supposed to, but let's face it, who hasn't chipped a nail rummaging through their bag trying to find keys at 3am!) then the only way to colour match is to go back to the salon.
The good news is, we as a society have come a long way since those days!
You can get Gel nails by yourself, cozied on the couch and with a glass of wine handy, or invite a girlfriend over, split the wine, and do each other's nails with a few core essentials. Win/win!
For a step-by-step guide on how to do gel nails at home, check out our Opallac Gel Polish Step by Step Application Video, and don't forget to grab your Starter Kit!